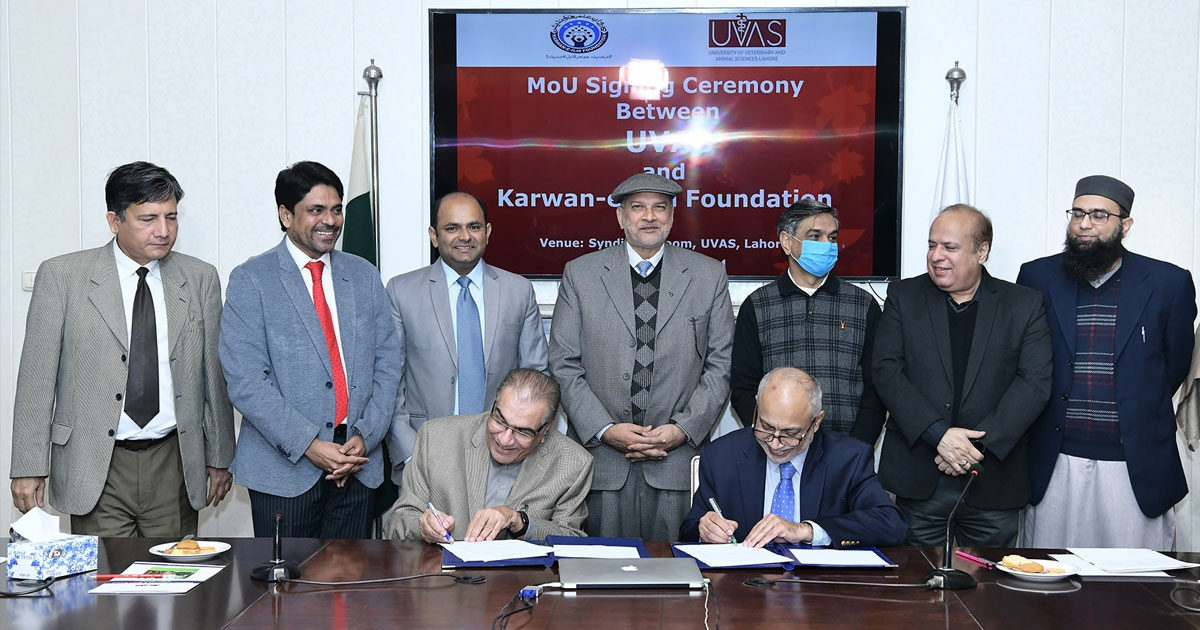 The responsibility of uplifting the needy but brilliant students has been taken up by Karwan-e-Ilm foundation (KIF) since last 2 decades and for achieving its objectives, the management of KIF has signed a Memorandum of Understanding (MOU) with University of Veterinary and Animal Sciences (UVAS).
The main objective of MOU is to provide scholarships to those students who are brilliant but can't afford education due to financial hardships. It was agreed that through this MOU, not only students will get scholarship opportunities but the skills and personality of these students will also be enhanced by the faculty and staff of UVAS through sponsored career counseling sessions by KIF.
The Vice Chancellor of UVAS, Dr. Nasim Ahmad and Chairman of KIF, Mujib ur Rehman Shami signed on the MOU. Other senior personalities of UVAS and KIF were also present including Pro-Vice Chancellor UVAS, Dean of Faculty of Biosciences, Assistant Director Financial Aid and Executive Director KIF. The Chairman of KIF, Mujib ur Rehman Shami stressed on the objectives of KIF as they are the only organization existing in Pakistan who are working for the welfare of the students on such a large scale.
He also stressed on the important role played by UVAS for keeping livestock sector alive. The VC also acknowledged the fact that it is due to the financial support of KIF that management of UVAS will be providing the scholarship opportunities to the deserving students.